Variational Modeling in Solid Mechanics
VENUE
The conference will be held in Palazzo Antonini, via Petracco n.8, located in the center of Udine.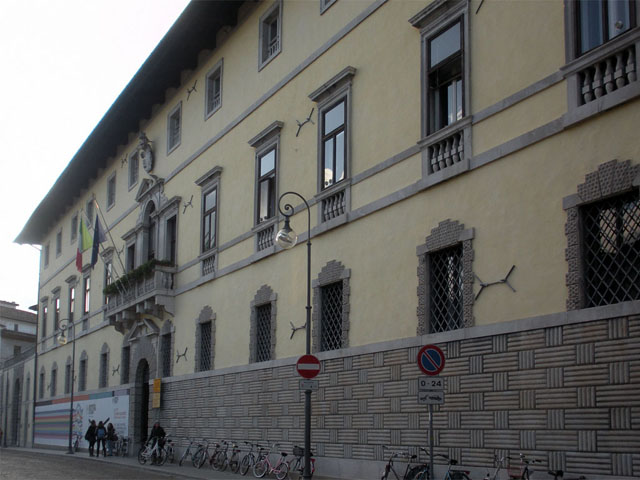 In the map below you find the position of Palazzo Antonini, the railway station, and CISM.


View Udine in a larger map
ACCOMODATION
Among the hotels in Udine we suggest:
Hotel Astoria, Piazza XX Settembre -33100 Udine
Tel. +39 0432.503777 - Fax +39 0432.503711 - www.ambassadorpalacehotel.it/


Hotel al Vecchio Tram, Via Brenari, 28 - 33100 Udine
Tel. +39 0432.507164 - Fax +39 0432.25857 -
www.hotelvecchiotram.com/
Hotel Suite Inn, Via di Toppo, 25- 33100 Udine
Tel. +39 0432.501683 - Fax +39 0432.200588 -
www.suiteinn.it/
Hotel Quo Vadis, piazzale Cella, 28- 33100 Udine
Tel. +39 0432.21091 - Fax +39 0432.21092 -
www.hotelquovadis.it/
TRANSPORT FACILITIES
The city of Udine is situated in the North Eastern part of Italy. There are three main airports near by Udine:
1) Venezia (Marco Polo airport),
2) Trieste (Ronchi dei Legionari airport),
3) Treviso.

Trieste airport is the closest. From Trieste you may reach Udine by bus.

The best international connections are through the Venice airport. From this airport you may easily reach Udine by train using the close railway station of Mestre. Mestre railway station is connected by bus to the Marco Polo airport (ask for the bus to Mestre, not to Venezia).